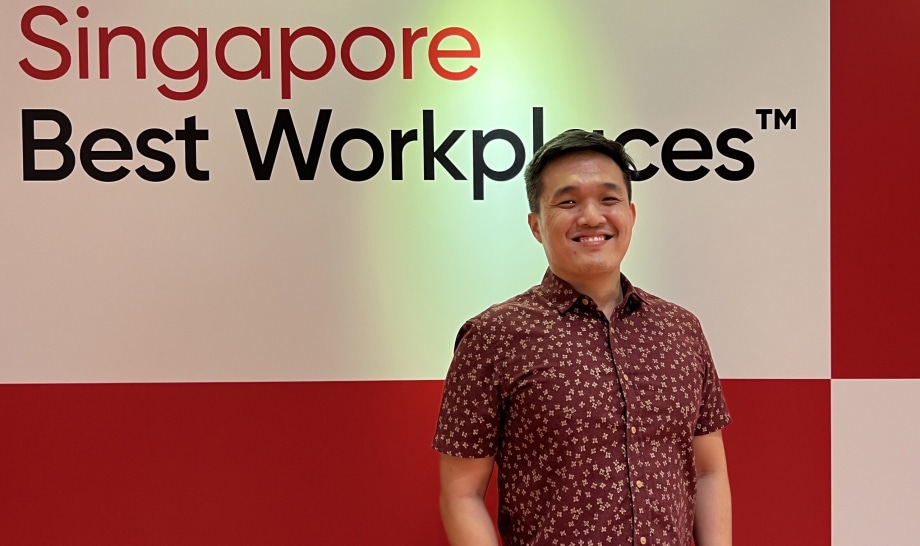 Employer Partner Spotlight: Jonathan Liang, Thoughtworks
Meet Thoughtworks' Southeast Asia Recruitment Lead, Jonathan Liang, a firm believer in the art of teaching mid-career job seekers "how to fish".  Thoughtworks is a leading global technology consultancy and a dedicated employer partner of Generation Singapore in running its first employer-embedded tech programme for mid careerist. Generation Singapore leans in to learn more about his journey and motivations in helping the underemployed and underserved finally attain fulfilment and success at work.
SUPPORTING MIDCAREER JOBSEEKERS
You might be wondering why Jonathan Liang was specifically attracted to helping the mid-career switcher. He explained it simply by comparing a recent graduate to a mid-career switcher — and their likely approach to solving a problem. The former would take a theoretical and idealistic approach, while the latter would be inclined towards a measured and realistic method.
"It's all about their level of maturity. Maturity because of lessons gleaned from both successes and failures in previous work, as well as various life experiences, which then translates to an appreciation for the imperfect reality that we face in day-to-day work."
Thankfully, they were not alone. Together with support from IMDA, Thoughtworks was able to reduce the investment required for skills-training courses. Shortly after, Generation Singapore came alongside them to execute a 12-week bootcamp for aspiring mid-careerists.
"Qualifications are not part of our consideration. For us at Thoughtworks, the paper certificate does not define how well the candidate will be able to contribute to the company."
When looking out for future employees, Jonathan firmly believes that the abilities to learn and perform are intrinsically intertwined. For good or worse, a great past performance may not necessarily indicate future performance. Besides having a hunger to learn, Thoughtworks pays close attention to a candidate's attitude towards ambiguity, approach towards solving problems, and their collaboration with others.
"We use a variety of approaches when it comes to channels of hiring — both inbound (applications from our website, LinkedIn and other job portals) and outbound (various proactive sourcing tools as well as our global sourcing team). We are also open to referrals."
CHALLENGES IN TALENT MANAGEMENT
When asked about the current challenges in talent management and recruitment, Jonathan cited the advancement of tech as a crux.
"As more companies are becoming 'tech-at-core', the war for digital talent will only intensify in the years ahead. As a result, more employers are required to step up to cultivate the kind of talent they require by taking on more responsibilities – for example, developing programs to reskill current employees or upskill fresh hires. The problem is that these employers may not be experts and may not have the right people in place to ensure effective upskilling takes place."
ON DIVERSITY, EQUITY & INCLUSION
Inclusivity is definitely a buzzword in today's workplace — and Thoughtworks certainly doesn't shy away from making it a reality at their office.
"At Thoughtworks, we are constantly working to ensure that our culture, policies, and processes are aligned to support diversity and inclusion.
This meant introducing a number of employee network groups and initiatives to help drive collective understanding through formal learning sessions and ground-up communities. Jonathan hopes that through these initiatives, a safe space is given for the teams to share personal experiences and freely ask questions.
We have a strong feedback culture; Thoughtworkers are trained to request, give, and receive feedback that promotes safety and growth. We promote this from the moment new joiners enter through dedicated onboarding sessions that instil awareness of invisible barriers that can hold Thoughtworkers back."
The TW Launch program is a seven-day initiative put together by the company where new hires in Southeast Asia are brought together for onboarding. During the program, employees are exposed to project simulation (to help them understand Thoughtworks' ways of working) and, more importantly, introduced to Thoughtworks' key culture and values.
"Generation Singapore is systematic and conscientious in their approach of preparing job seekers. Our experience working with Generation was stellar."
Jonathan highlighted three of his favourite partnership moments with Generation Singapore:
Curriculum customisation right from the start (even before interviews)
"Generation seeks to understand the problem space first to craft a programme that works for us. It wasn't an overhaul because they already had robust curriculum programmes in place beforehand. Only minor modifications were needed."
Aligned approach to recruiting learners and jobseekers
"Looking for intellectual curiosity and behaviours that exhibit that trait instead of academics or past qualifications."
Continuous feedback and data collection throughout the bootcamp (on both learner and trainer experience).
"We knew the learning curve was the highest right at the beginning of the course. This is done to measure and allow on-the-fly pivots to deliver a high-quality experience and outcome."
"We have had nine learners join us for about a year so far, as part of their two-year contract with us — at least two of which have been converted to permanent staff because of their excellent performance. As such, the selection process, which was a combination of elements from Generation Singapore and Thoughtworks, has proven to work effectively.
I would recommend other like-minded companies to work with Generation Singapore. While the mission and values of Generation Singapore got us interested in starting conversations, it was ultimately the quality of the follow-up processes and pride taken in the work that sealed our decision to continue working with Generation on a long-term basis!"