Timothy | Cloud Support & DevOps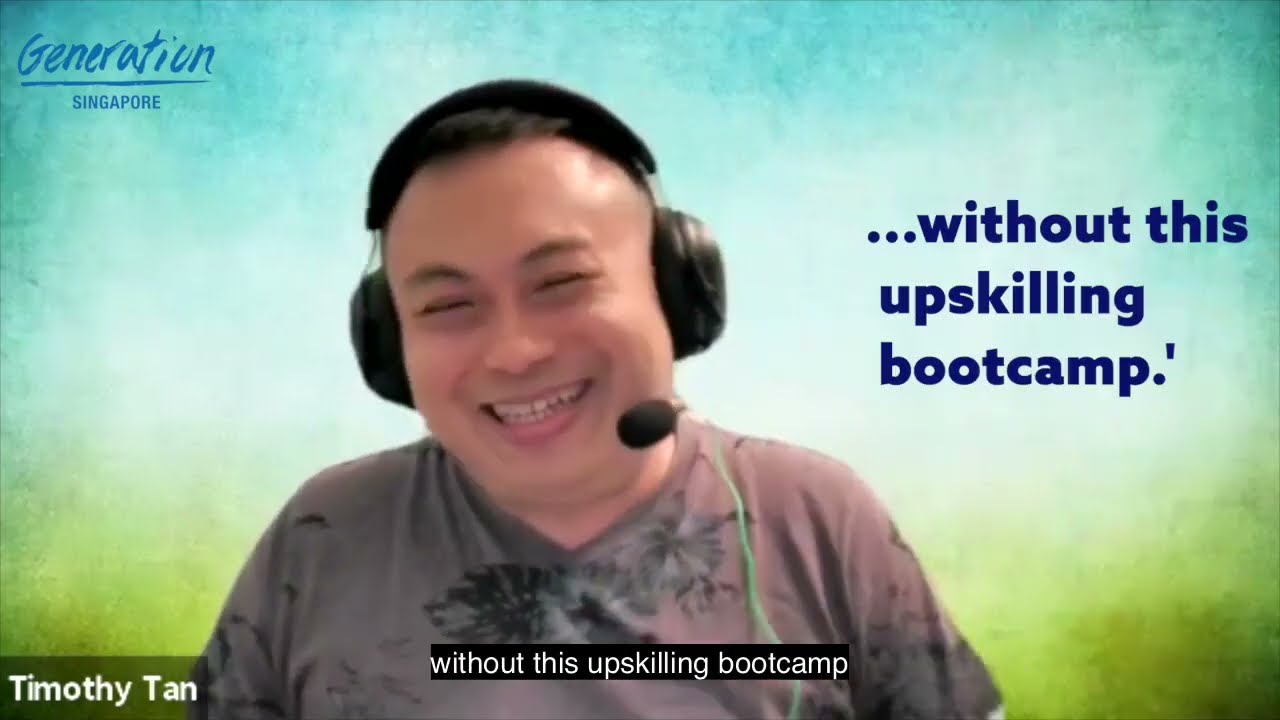 From a Fire-Fighting Businessman to a Cloud Engineer
We had virtual coffee with Timothy, from Cloud Support & DevOps of #GetReadySG program, to chat about how he went from a fire-fighting businessman to having a blast in the 'cloud' — the tech kind, that is. Now having landed a full-time job as a cloud engineer, he shares his experience on the good and trying times in his journey towards a life-changing mid-career switch.
Like a Dog Chasing its Tail
"I have been stuck with running businesses for over ten years. Every day felt like a dog chasing its tail, running around in circles and 'fire fighting' all in the name of getting more money.
However, having studied engineering, he knew he would always want to get back into the tech scene, but never felt like it was the right time yet.
"During the pandemic, I saw a Facebook ad of Generation Singapore's partnership with Microsoft and the government to offer tech re-skilling through a six-month bootcamp and apprenticeship. I took that as a sign that it was finally time."
He proactively researched for opportunities for a career switch and decided to go for Generation's program because of the apprenticeship offering.
Jumped In and Never Looked Back
Although he found the application somehow intimidating at first, he was thankful that he made it through. "I focused all my energy on getting into the programme, and it paid off. I resigned, jumped in, and never looked back."
"The pandemic was definitely a wake-up call for me to take the plunge and chase my dreams."
'Intensive Yet State-of-the-Art Bootcamp'
"Stepping back into studying was the best feeling ever. The bootcamp was intensive, but in the best way possible. It was simply state-of-the-art! The latest and greatest in tech was taught to us and it equipped us with everything we needed. In fact, my manager from the apprenticeship was really impressed with what we had learnt, and was able to execute projects in just three months!"
Timothy also found the bootcamp enjoyable because of the supportive community of his cohort mates. "Everyone was so accepting, caring and encouraging. We had people from all walks of life learning together -handicapped, young, or old. We held hands and progressed together. Even till today, we keep in touch with monthly kopi-chats."
"Our instructor paced the class according to our abilities, and even stayed back to help if we had questions. Generation team was incredible too, checking up on us frequently and giving us the encouragement that helped us pull through."
Apprenticeship Experience with SCB
"I used to be a client of Standard Chartered Bank (SCB), and now, I became their apprentice! It never occurred to me that this could happen — it was very cool and eye-opening.
Timothy also shared that SCB was very supportive, even giving them an extra month of bootcamp to equip them with more skills from data science and full-stack. "Together, we did a team project within a month and produced a client onboarding credit card website."
"My boss was very empowering. He didn't doubt our knowledge and even gave us opportunities to support the team. With the perspective and growth mindset built-in by Generation, I could see my IT ticket system increase day by day as I resolved issues. It was very encouraging!"
Mentorship with a Microsoft Mentor
His mentor Mathur Sunil gave him tailored and relevant advice at every stage of his journey. "He is very experienced. As we progressed to the apprenticeship stage, his mentorship method changed too, and encouraged us to learn the role instead."
"Now at my permanent job, I can see how every single piece of my mentor's useful advice fits in beautifully and complements the whole experience."
Finally in the 'Cloud' After a Daunting Job Search
"Job searching is always daunting and interviews can be scary. Nevertheless, I applied that fighting spirit taught to us. Of course, there were failures and disappointments, but I truly believe that there is a perfect fit for everyone."
After applying for hundreds of roles, Timothy finally managed to score a cloud engineer role three months after his apprenticeship.
"The director who hired me knew I had only three months of tech experience, but he was a supporter of mid-career switchers. He looked past my little tech knowledge, and valued the past experience and persistence I had that led to this reskilling journey and eventually this role."
"After so many job applications, interviews, and sleepless nights, I am finally in the cloud(s)!
I now have a job opportunity and it's the best-case scenario that I could ever have anticipated!"
Key Reflections
"Having a growth mindset is very essential as well as having the persistence to fight on even during tough times. Choosing your attitude even in difficulties, and staying positive, can truly make a difference."
"Generation Singapore encouraged us to be brave again. They put so much effort to make all these happen -communicating with employers, knowledge transfer, and incredibly supporting us all the way.
"If not for this program, I'd still be stuck in my previous rabbit hole. From the bottom of my heart, I am very thankful. I never knew that life can be so good."