Florida Blue | Jacksonville
Tyler Smith interviews a lot of people throughout the year. The operations manager for Florida Blue in Jacksonville might have to sit down with 1,000 candidates to find qualified people to fill 400 call-center jobs.
So he knows what good and bad interviews look like. And he was really impressed by the way local Generation students handled some mock interview exercises he helped out with.
"It was an impressive group of people," he says. And just the kind of employees Florida Blue likes to hire. Which got Smith thinking: If Generation was doing such a good job with under- and unemployed citizens of Jacksonville, could it help Florida Blue with its seasonal workforce?
The company has about 300 seasonal call-center employees who work for nine months, then get 90 days off over the summer. "When they're out on that 90-day time frame, retention is huge for us," says Smith. "So a big deal would be to get them through a program that would incentivize them to come back." That way, the company would have less turnover and more tenured employees who already have knowledge about the job and its requirements.
Generation worked with Florida Blue to create a tailored curriculum designed to encourage seasonal call-center employees to stick with the company and move up into managerial roles. "We were really excited to work toward helping Florida Blue employees have a mindset of persistence," says Lauren Pfanenstiel, digital program coordinator for Generation Jacksonville. "Our goal with Florida Blue is to create a long-term, loyal employee who wants to grow with the company."
Connecting the dots
The summer 2018 pilot program taught students specific workplace tools and helped them understand why certain elements of their jobs are important. "That's where the disconnect happens a lot of times for our employees," says Smith. "They know that they're supposed to be nice, but being nice is just a general term. But to break it down and say this is the reason and this is what's expected and this is why that's important. This leads to retention and an important part of the curriculum started to reveal this to us."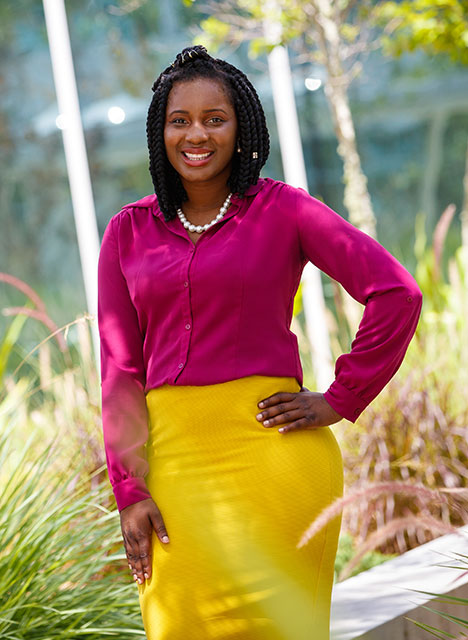 For employee Xia, this kind of training gave her a new outlook. "You may think you know it all, but you don't know the difference between customer service and customer experience," she says. "What I learned is there's a huge difference. I can service the customer, but it does not mean that they had a great experience with me or with my company. And a customer who has a great experience with our company—they're your biggest promoters."
Classwork on soft skills like listening, professionalism, and attitude were also a vital component of the program, especially since empathy is an important trait for call-center employees. "We're dealing with people who have been diagnosed with terminal illnesses, chronic-care conditions, diabetes, you name it," says Smith. "It's an emotional roller coaster every day on the phones. It does take a special skill set to be able to talk to 40 different people and be positive and empathetic and understanding of their situation. It's their first call, but it may be your 30th [of the day]."
More than just a paycheck
The program's results are still being analyzed. But early indications are positive. Pfanenstiel says some students have already indicated interest in full-time or managerial positions.
Xia has goals of management, a path she's been interested in but intimidated by in the past. But the program has made her feel confident it's something she can achieve and has provided her with recommendations of books to read and other steps to take to continue growing her skills.
"They gave me things to invest in to make sure that I'm able to stay motived," she says. "It's lighting my fire. I'm taking my tools that I've learned to go ahead and pursue what I really wanted to do. I know that I have the leadership skills. Everything that I've ever done in life I ended up being in a leadership role. Straying away from management was a horrible idea. [The program] brought me back to what I really want to do here at Florida Blue."
The hope is that more seasonal employees feel the way Xia does. "It's incredible to see what impacts this could potentially have longer term," says Smith. "We're at the infancy stages of this. But to hope and see what this could be like 3, 5, 10 years from now is really exciting."
Pfanenstiel says Generation and Florida Blue are now looking at options for turning the pilot program into something bigger, so that Florida Blue can help more of its employees with professional development and encourage them to pursue opportunities at the company. "We know that a job can be just a paycheck for people," she says. "But when they're inspired to do more and they love their company and feel like their company loves them, we see people bringing their whole selves into the job. We want to see people who feel inspired, who see the bigger picture, and who want to stay at their companies."
That's definitely the case for Xia, who plans to use the skills she learned to help both herself and others. "When you're a person that so much has been given to, you're so full you want to overflow and give back to someone else," she says. "Once I'm able to show that I'm great at it, I want somebody else to be great at it too. I don't want to be the only one just sitting here great at it. So that's what I plan to do, just take it, teach it, and be great at it."