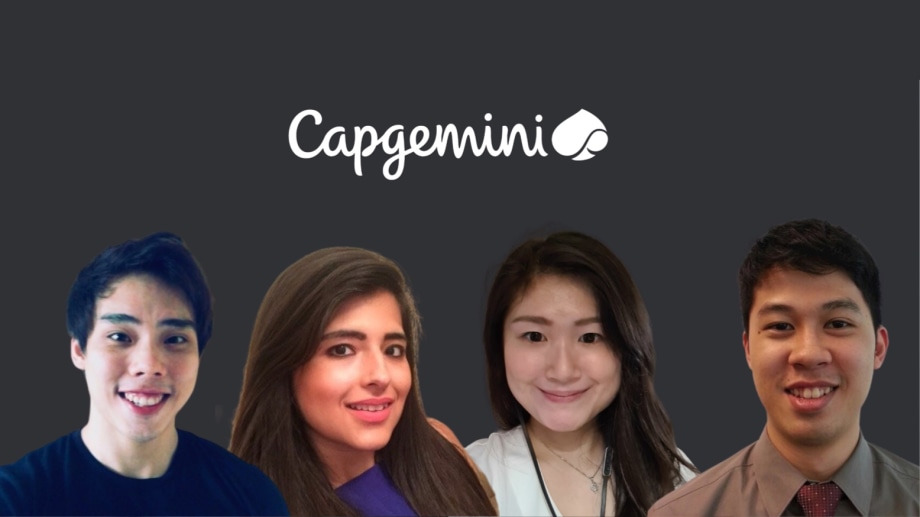 CapGemini | Employer Partner
We sat down (virtually) with Capgemini, a global leader in consulting, technology services and digital transformation — to find out more about their partnership with Generation Singapore. Kiran Chandnani (Talent Acquisition Lead, SEA & HK), Jason Toh (Talent Acquisition Specialist), Tho Wei Hong (Salesforce Consultant), and Joyce Huang (Talent Acquisition Specialist) share their experiences as a #GetReadySG employer partner and what candidates can look out for when applying for a tech consultancy role.
How did Capgemini start with Generation Singapore?
Kiran: "It all started with a problem statement – prior to meeting Generation Singapore, the team would gather frequently to discuss how we could widen the talent pool here — where there is a very high demand for technology skills but a shortage of candidates that possess the right skills
Weihong: "It was then that Generation Singapore was brought up, during one of the brainstorming sessions where we were discussing potential initiatives and opportunities that we could get exposed to address that problem. While we had previously connected on LinkedIn and had one-on-one conversations with multiple members of Generation Singapore, it was the focus on partnerships with the government as well as well known players such Microsoft and Temasek that really highlighted the amount of effort being put in to help Singaporeans upskill that got us — it made all the difference!"
How do you deal with challenges regarding talent management, especially with the huge shortage of viable candidates?
Kiran: "Hiring from competitors is obviously one way to do it — but we realised we need to think out of the box, otherwise, we'll always be tapping into candidates who already have multiple offers on hand. As part of our talent management strategy, we also have a graduate program that we've been running in Singapore for five years wherein we train undergraduates of different disciplines on different technologies and provide them with the on-job experience on projects across different domains.
However, we thought that participating in this program would give us access to a different diverse pool of talent — not just the junior talent but mid-career switchers as well. And we hope they would possess creativity due to their various backgrounds and experience.
This shortage comes from the technology skills that we are hiring for, especially when it comes to specialised fields of developers. Each year we hire about 80 people in Singapore at least — and that's across all technologies, not just focused on developers. If we're just looking at developers, it'll be at least 50 mid-level hires a year. When it comes to the more functional business aspect of tech (ie, the business analysts, project managers) there is a pool available which we are able to tap in to.
Joyce: "In addition, the majority of experienced hires available in Singapore are usually foreign talent — so this is a great initiative to groom homegrown talent pool."
How did the partnership with Generation Singapore go — what kind of support did you receive?
Weihong: "From comprehensive support like explanatory decks at the beginning to networking sessions at the end, where trainees got to show off what they had learnt and clinch internships — it was a very smooth process. Everything was planned, so all we needed to do was provide documentation.
The program also allowed us and our business partners to have one-on-ones with every single participant and connect with them. This way we were able to give them an in-depth understanding of consulting too."
Kiran: "We especially loved that Generation reached out to us to get input on the learning curriculum and took the advice given by our technical guys back to be used in the bootcamp."
What were the distinct traits that made you hire Generation learners like Shaffi and Kim?
Weihong: "Other than being a good communicator, Shaffi took the initiative to do research to support whatever he was saying during the interview. It was clear that knew what he wanted and had even planned ahead, he even gave us his 5-year and 10-year plan without us asking! Thus, it was clear that he was willing to work towards whatever he wanted — backed up by a portfolio of projects he did outside the course, which showed effort.
For Kim, she had a great work attitude and was a fast learner — seeing that she had to learn almost everything from scratch. She went above and beyond and did a lot of homework on her own after working hours. She did this so that she would be able to answer her manager the next day should any queries arise, and give even more than was expected."
What is your overarching hiring philosophy — what can future candidates look out for?
Joyce: "In Capgemini, we place a strong emphasise on soft skills such as being proactive and showing genuine interest and initiative towards learning and the ability to adapt to different situations — We believe that these are essential in building a winning team.
Kiran: "We feel that grades in their disciplines are never really the deciding factor for getting hired for a tech consultancy job. We look for people who are always ready to learn new skills and put their acquired knowledge into practice. We believe this is exceptionally important for people coming from a different industry background. The technology industry is evolving even as we speak and being in consulting means we need to become subject-matter-experts or advisors of solutions for our clients. During the hiring process, if they demonstrate the 'La Niaque' spirit — which means 'fire in the belly' in French — passion to succeed and the desire to make a difference, then they are already half-way to successfully securing the role with us."
What are your thoughts on the process and methodology that Generation is using to prepare and support jobseekers?
Joyce: "I think the structured learning program coupled with project course work is a good balance of both content/knowledge and application and it equips any learners without prior background in technology with the basic fundamental skills they need to kickstart their career in the industry.
We connect with these learners, we evaluate their technical aptitude, communication skills and their work attitude. When Generation screens the applicants, it also helps to sieve out those who don't have the right attitude. This ensures everyone in the program is always serious, ready and willing to learn. The only thing we ever had to worry about is the how fast they can adapt on-the-job in the Tech industry which is always evolving."
Weihong: "Yes, however we found that some candidates were lacking in Interview and presentation skills and this might be an area which Generation program can focus on. It is important to pay attention to first impressions, make the effort to keep the conversation going by participating actively, show interest and establish a good relationship with the hiring managers! For example, during the second networking session, some of the candidates seemed to be knowledgeable about tech but when asked certain questions, some of their responses sounded quite scripted.
As a tip, it's important to share your own opinions and thoughts, which is why researching on the company you're applying for is vital. It helps to show alignment with your own goals in the tech industry."
How would you encourage potential trainees who wish to apply for a tech role but don't feel confident enough?
Kiran: "Demonstrate your passion for technology and more importantly the drive to learn about new technologies, this can be demonstrated by completion of training courses & certifications."
Joyce: "The work that Generation Singapore and Capgemini, as an employer partner is doing over here helps to create an ongoing support eco-system in the community that gives you the opportunity to get started in a career in Tech with the knowledge and internship placements with us, it gives you a taste of what life is like in Tech industry.
This gives you an opportunity to try out a career that you have never imagined doing in the past and a chance to further your potential.
It's like an air ticket to a known destination without an itinerary when we go on a road trip with your friends. Road may get rough, but you will get to where you want to be and the experience it brings will be worth it.
Sometimes, we need to take a leap of faith even in unchartered waters because no one else, but you are responsible for your own career and future, and if even you don't believe in yourself, how can any employer believe in your capability then?
Do you wish to continue the partnership with Generation?
Kiran: "Yes, absolutely! Due to its success here, we have plans to expand this partnership beyond Singapore and are currently exploring the programs in Hong Kong.
Capgemini is committed to being an equal opportunity and diversity employer. Our joint partnership with Generation Singapore in the #GetReadySG initiative demonstrates our dedication as an organisation in achieving our Global CSR goal of Digital Inclusion in 2021 by nurturing mid-career switchers into Technology enthusiasts.
We are committed to providing continuous support for the community in Singapore and the region, and we would like to welcome all who aim to pursue a fulfilling career in technology consulting to show your support by reaching out to us on career and partnership opportunities."