Daniel | Full Stack Developer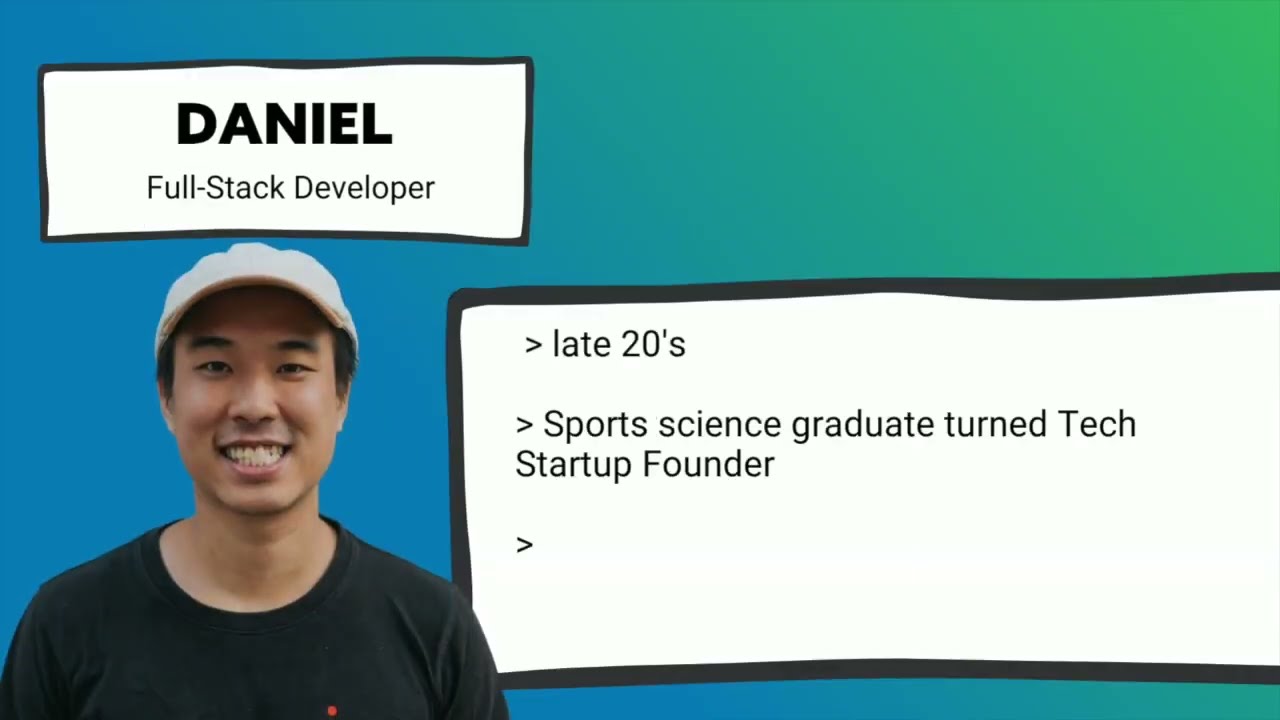 A sports science graduate turned tech entrepreneur
Fuelled by his passion for sportsmanship, Daniel adopted Sports Science as his discipline in university. However, upon graduating and returning to Singapore, Daniel found himself gravitating towards sports events — more specifically, the management side of things. As he progressed deeper into his career, he began spotting a huge gap in the industry. There was a lack of digitalisation and he knew he needed to do something about it.
From embryonic to empowered
With next to no background in tech, he and two friends co-founded "Deetz", an Event-Tech Startup. In order to run the business and problem-solve effectively, the co-founders invested time and money to make up for whatever they lacked in tech knowledge. That included hiring and managing the expectations of multiple tech personnel who didn't stay long.
Daniel took the high turnover rate as a sign that he was too dependent on his hires and decided that equipping himself was the only way to become a better tech entrepreneur and, ultimately, a better leader.
As fate would have it, a friend introduced him to Generation. Daniel bashfully admitted the selling point, "there's no cost — and they pay you to study! Going to a course can be quite costly, but here, not only will I be learning more about tech — I'll also be getting an allowance from it! And I thought that's actually not bad because I have a family to feed."
Still, he proceeded cautiously and kept his expectations low but his mind open. To his delight, he was rewarded with an enriching experience that squelched any doubt he had about the budding startup. He quickly armed himself with tech terms and soaked up all the soft and hard skills necessary — so much so that the company was able to grow with a technology team which he was able to successfully manage.
"It was during the bootcamp that my startup started picking up. So before my apprenticeship was over, because all the expectations I had for my time here were already met, I decided that it was time to return to my startup that needed me more."
Highs & low of bootcamp
At the start, Daniel felt a little inferior, having to catch up with other trainees who had some background in tech. However, as a naturally chatty and bubbly person, Daniel was relieved to find that his cohort was an accepting bunch who knew how to have fun and work hard.
"Jean, the instructor, had a good sense of humour and she didn't make coding or soft-skills lessons hard." He was blessed with a patient and kind instructor who sacrificed even Sundays to help her students out. That greatly contributed to the conducive environment that made learning interactive, smooth and enjoyable. One thing that kept him pushing and positive was his clear-minded objective, which was to go back to his startup as a better tech founder.
"I would say bootcamp was systematic, progressive, and fast. My friends in university learnt Javascript in a year but we did it in two weeks! How's that even possible?! Laughs. That was when I told myself that I shouldn't focus on being the best developer but rather, to accomplish my objective. And I felt that I overachieved it — I am now much better than I was before."
Seek personal & professional growth
On a professional side, Daniel was ecstatic to better understand the entire product development cycle from team to market and apply agile methodology to it. All that improved his management skills.
Yet, his biggest takeaways were personal. "Through the course, I learnt to be more analytical and empathetic, and how to relate to the struggles of tech engineers and designers — but most of all, the sharpening of a growth mindset that enhances my entrepreneur skill set."
"To fellow entrepreneurs, aspiring full-stack engineers, and those interested in building all kinds of things, I would recommend taking this same course. Don't be afraid. it is not as scary as it seems — even big companies do not expect you to do it all on your own. You'll have a team and a lead! Just remember to give good thought about what you want in and out of your career."